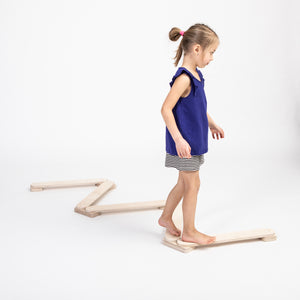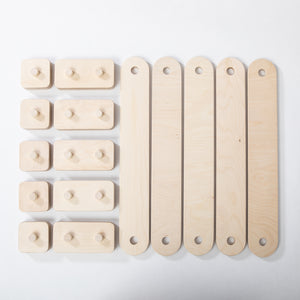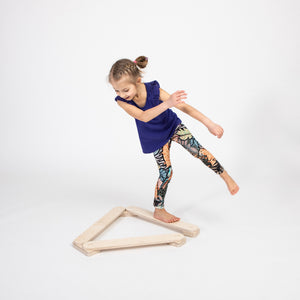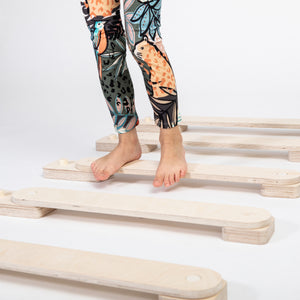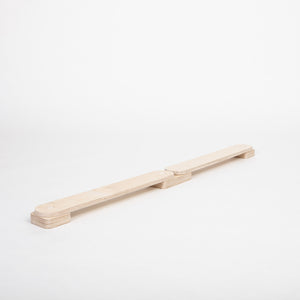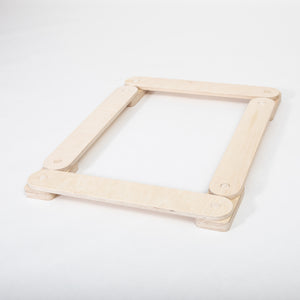 Product image 1

Product image 2

Product image 3

Product image 4

Product image 5

Product image 6

Product image 7

BALANCE BEAM set or Balance board is an open-ended wonderful Montessori balance indoor activity toy and Montessori toy that develops gross motor skills and encourages open-ended play. Wooden Balance Beams or gymnastics beams are recommended for children ages 8 months to 10 years. Children's low beam is created following Montessori Furniture principles. It is the perfect gift for kids' birthdays, gift for Toddler Christmas, Baby Shower, Hanukkah, etc gift.
Increase the overall length of the Modular balance beams and activity play gym by adding more sections as your child grows. With more children balance beam paths can be made longer and more complex. More beams allow you to involve more children in the game!
It is a simple flat for storage, made from 100% natural Baltic birch plywood, and has a fun, and thoughtfully designed look!.


ADVANTAGES
Besides so much fun and positive emotions while playing with balance beams it will also
✔️ Be the perfect Christmas, Birthday, Baby Shower, Hanukkah, etc gift.
✔️ Develop Gross motor skills
✔️ Encourage open-ended play
✔️ Improve problem-solving skills
✔️ Boost self-confidence
✔️ Encouraging curiosity
✔️ Gain physical self-awareness
✔️ Increase spatial awareness
✔️ Provide vestibular stimulation (for learning about balance)
✔️ Expands creativity and playtime
✔️ Great for solo and group play
✔️ Works through fears
✔️ Perfect for playing and having fun
✔️ Helps to increase concentration

SPECIFICATION
📦 ORDER INCLUDES
The sets include the requested number of balance beams (2,3,4,5, 6, 7) with necessary connectors
✔️ SET OF 2 Includes - 2 balance beams, 2 single & 2 double connector
✔️ SET OF 3 Includes - 3 balance beams, 3 single & 3 double connector
✔️ SET OF 4 Includes - 4 balance beams, 4 single & 4 double connector
✔️ SET OF 5 Includes - 5 balance beams, 5 single & 5 double connector
✔️ SET OF 6 Includes - 6 balance beams, 6 single & 6 double connector
✔️ SET OF 7 Includes - 7 balance beams, 7 single & 7 double connector
ADVANTAGES
✔️ All edges & corners are rounded for kids' safety. All surfaces are sanded by hand. Smooth and splinter-free.
✔️ Build any shapes from beams
✔️ Foldable and modular design
✔️ Lightweight and easy to handle

📐SPECIFICATION
Beam 60x9 cm/ 23.62x3,54 in
Thickness 1,5 cm/ 0,59 in
Connector height 2,9 cm/ 1,14 in
Single connector 9x9cm/ 3,54x3,54 in
Double connector 9x18cm/ 3,54x7,09 in
Weight capacity: 90 kg (198.4lb)
ASSEMBLY
We attach simple instructions so you can easily assemble them.
SAFETY:
We always suggest having adult supervision for the extra safety of your child. We cannot be held responsible for accidents.


SHIPPING
It is delivered to your home with TNT/ FedEx or UPS, and you will be able to track it while on the way. The triangle is shipped out in 1-2 weeks. Shipping usually takes 3 days to 2 weeks and is insured against loss or damage.

The US, Canada FREE shipping
European Union and UK FREE shipping
Australia, New Zealand, Singapore, Hong Kong Shipping 39 USD
To other countries CHECK DURING CHECKOUT
Cannot choose your country as a destination? Don't hesitate to get in touch with me at info@sweethomefromwood.com
Created for your child
"Sweet Home From Wood" grew from what we created for our children, so you can be sure it is safe, durable, and easy to use.