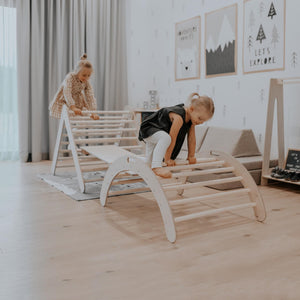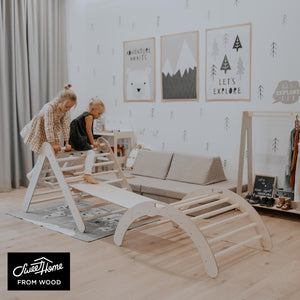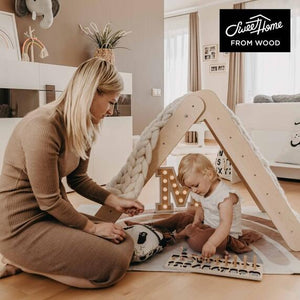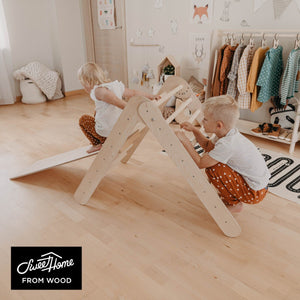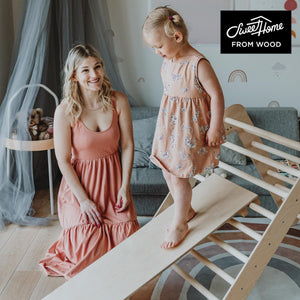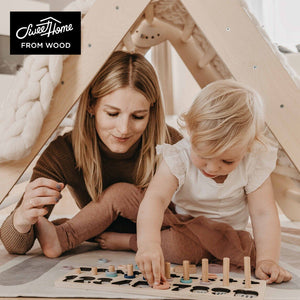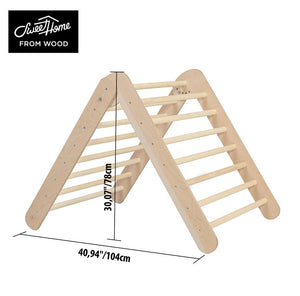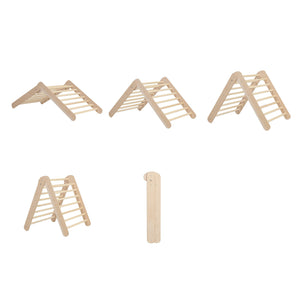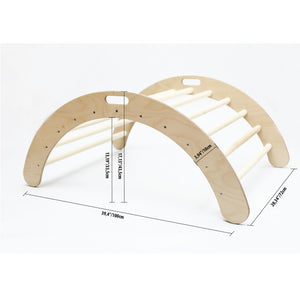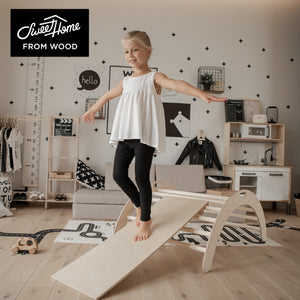 Product image 1

Product image 2

Product image 3

Product image 4

Product image 5
Product image 6

Product image 7

Product image 8
Product image 9

Product image 10

Product image 11
Product image 12
Product image 13

Product image 14

Product image 15
Product image 16

Climbing triangle and arch set is the ideal toddler toy for those that are implementing the Montessori method into their kid's learning. It is a great addition if you have a climbing arch. Use it as the perfect climbing furniture to accent your child's bedroom!
Keep your little one occupied for hours and enjoy the best in Montessori furniture with this foldable climbing triangle set or climbing ladder. Climbing indoor gym set includes climbing triangle and ramp of your choice, you can choose separate Montessori Triangle as well. The baby climber is foldable to save place while not used.
It is featuring 8 climbing rings on each side and hours of play in the indoor toy. 
ADVANTAGES

✔️ Perfect Christmas, birthday, Baby Shower, Hanukkah, etc gift.
✔️ Climbing triangle has 4 slope levels for more functionality
✔️ Develop Gross motor skills
✔️ Encourage open-ended play
✔️ Improve problem-solving skills
✔️ Boost self-confidence
✔️ Encouraging curiosity
✔️ Gain physical self-awareness
✔️ Increase spatial awareness
✔️ Provide vestibular stimulation (for learning about balance)
COPYRIGHT: This item is protected by Registered Community Design (RCD) 007524624-0001. Any illegal use of this design and pictures will result in official litigation.
SPECIFICATION

TRIANGLE
✔️ Width 72 cm/ 28,35 in
✔️ Length 80 cm / 31,5 in
✔️ Height 70 cm/ 27,56 in
✔️ Side rails thickness: 1,2 cm/ 0,47 in
✔️ Rod diameter: 2.8 cm / 1,10 in
✔️ Weight: 9,1 kg/ 20 lb
✔️ Weight capacity: 50 kg/ 110lb
ARCH
✔️ Side rails thickness: 1,2 cm (0,47")
✔️ Rod diameter: 2.8cm (1,10")
✔️ Climbing ramp thickness: 1,2cm (0,47")
✔️ Weight: 3,5 kg (8lb)
RAMP
✔️ Climbing ramp thickness: 1,2cm (0,47")
✔️ Climbing ramp weight : 3,6 kg (7lb)
✔️ Ramp size 13,8''/ 35 wide, 40,94''/ 104cm long
✔️ Weight capacity: 50 kg (110lb)
We attach instruction and all that is needed to assemble it. Assembling is quite easy so you don't have to worry about it.

SAFETY
We at all times suggest having adult supervision for the extra safety of your child. We cannot be held responsible for accidents.

SHIPPING
Production time is 1-3 days. We ship with TNT/ FedEx or UPS and shipping usually take 3 days till 2 weeks.
The US, Canada FREE shipping
European Union and UK FREE shipping
Australia, New Zealand, Singapore, Hong Kong Check during checkout
To other countries CHECK DURING CHECKOUT
Cannot choose your country as a destination? Please contact me at info@sweethomefromwood.com
Created for your child
"Sweet Home From Wood" grew from what we created for our children, so you can be sure it is safe, durable, and easy to use.