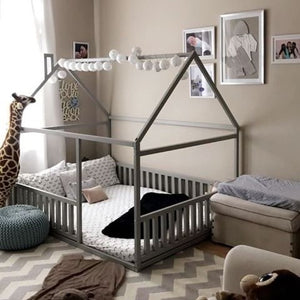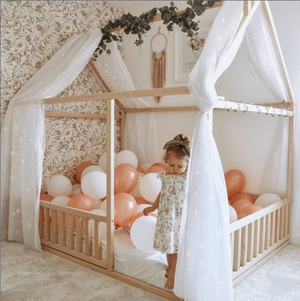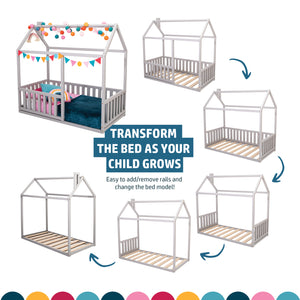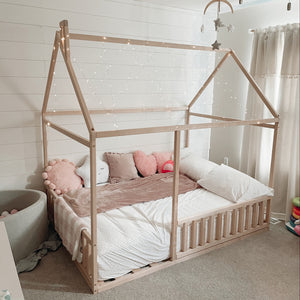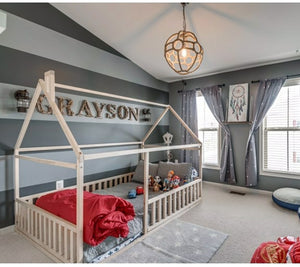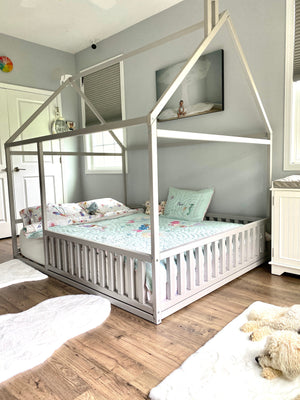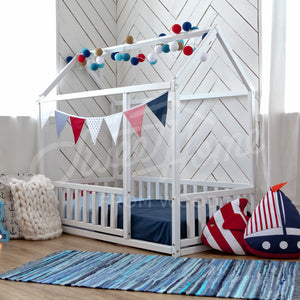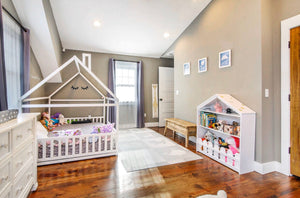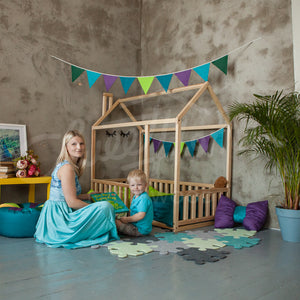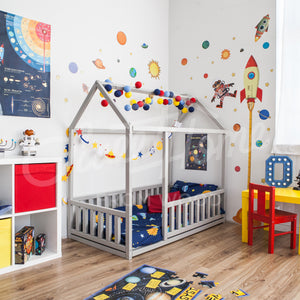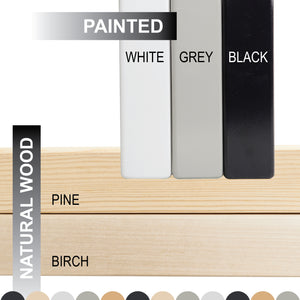 Product image 1

Product image 2

Product image 3
Product image 4

Product image 5

Product image 6

Product image 7

Product image 8

Product image 9

Product image 10

Product image 11

Product image 12

Product image 13
Create a vision of home and enjoy the learning experience of the Montessori Method with this Montessori House Bed with Picket Fence.  Featuring a zero-clearance from the floor and an adorable picket fence border for safety, this canopy bed is the perfect preschool bed!
If your little one is in Montessori school, then this unique kids' bed will be sure to add to the Montessori experience.  Proudly display this Montessori bed in your kid's bedroom for an eclectic canopy bed that is like no other.
MONTESSORI STYLE floor bed is an amazing product if you are following Montessori education principles and want to foster children's independence. This house bed will facilitate an easy transformation from crib size bed to a regular bed and sleeping on his own.
EACH BED IS CUSTOM MADE PROJECT made in Northern Europe by local craftsmen with deep knowledge of wood. We operate since 2015 and since then have sold several thousand such beds all over the world.
We value safety as the most important aspect of our products. We use only VOC-free materials that are certified according to European Union standards. Pine/birch wood beds are covered with bee wax, while for painted beds, we use watercolor paint. Wood rail sides are rounded, so there can't be any injuries. Wood is also treated so that it is soft and nice to touch.
"Bed came out just as I expected! It came quick and wasn't hard to put together!! I can't wait for my daughter to come home and see it! Beyond happy with this purchase! Well worth the money spent!"
Etsy review from Florida, United States
See more Wooden House Bed options:
Wooden Zero Clearance House bed: Small, Medium, Large, Extra Large
Wooden House bed on legs: Small, Medium, Large, Extra Large
Wooden Zero Clearance House bed with the fence: Small, Medium, Large, Extra Large
Wooden House bed on legs, with the fence: Small, Medium, Large, Extra Large
MATERIAL
The bed is made from pine or birch wood and covered with biological bee wax or painted (pine wood).
• Pine wood is softer and visually more yellowish than birch wood and with more visually seen wood structure. Since only the highest quality solid wood is used then both materials are good choices.
• Birchwood is a heavier and stronger material and from a visual perspective, you don't see so much wood structure, its natural color is lighter.
ASSEMBLY
Assembling is easy and fun. It should not take more than 25-40 minutes, and we advise you to do that together with your child. Screws, manuals, and necessary tools are included in the parcel.
We add all the required tools for assembling the bed including instructions. Everything you need is included:
• Planks;
• Screws;
• Hex key.
SIZE
Wood nursery bed size is for mattress size (choose size when ordering).
1) US Full 54"x75'', total height 68,5''. Outer frame 77,56x56,5''.
2) US Queen 60x80'', total height 71,65''. Outer frame 63,15x82,28''.
3) Australia Double 137x187 cm, total height 174 cm. Outer frame 194x143,5 cm.
4) UK Standard Double 135x190 cm (4' 6" x 6' 3"), total height 174 cm. Outer frame 197x143,5 cm.
5) 120x190 cm, total height 165 cm. Outer frame 197x128 cm.
6) 120x200 cm, total height 165 cm. Outer frame 207x128 cm.
7) 140x200 cm, total height 176 cm. Outer frame 207x148 cm.
8) UK and Ireland King 150x200 cm, total height 180 cm. Outer frame 158 x 206 cm. 

The roof starts at 96cm/37,8''. Wooden details are 1,18x1,58 in/ 3x4 cm wide.
Our beds for children are protected by Registered Community Design (RCD) 006740270-0007. Any illegal use of this design and pictures will result in official litigation.
ORDER INCLUDES kid's bed frame with or without nonpainted plywood slats under the mattress (according to your choice while ordering), but it doesn't include accessories in pictures and mattress.
DELIVERY
DELIVERY time depends on the order date and time of the year. We start production on Mondays and the non-painted bed is shipped out on Friday and painted a week later (for orders made till Sunday). Shipping takes 3 days to 2 weeks depending on the destination. We use FedEx/TNT for delivery, and each parcel has insurance in case something is lost or damaged.
It is possible to track your order with the tracking number provided after purchase.
US, and Canada shipping 99 USD
European Union and UK FREE shipping
Australia, New Zealand, Singapore, Hong Kong CHECK DURING CHECKOUT
To other countries CHECK DURING CHECKOUT
If you can't choose your country as a destination please contact me at info@sweethomefromwood.com

Created for your child
"Sweet Home From Wood" grew from what we created for our children, so you can be sure it is safe, durable, and easy to use.